Noé Bárcenas Torres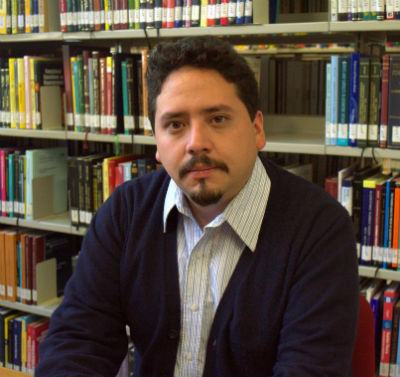 Dr. Noé Bárcenas Torres
Centro de Ciencias Matemáticas
UNAM
Campus Morelia, Michoacán
Apartado Postal 61-3 (Xangari)
58089, Morelia, Michoacán México
+525556232860
E-Mail: barcenas (add "at" matmor.unam.mx)



Intereses Científicos/ Research interests:



Teoría de Homotopía Equivariante/ Equivariant Homotopy Theory

Teoría K/ K-Theory

Análisis No-lineal/ Nonlinear Analysis
Publicaciones/ Publications, Preprints and ongoing Projects:
Conferencias Organizadas/ Organized Conferences:
BIRS Workshop:Groups acting on Cantor Sets. Oaxaca, México. May 2021. September 3-8, 2023.
BIRS Workshop: Analysis on singular spaces. Oaxaca, México. May 2021. Online.
Tematic Session: K theory, Latin American Mathematicians Congress. Montevideo, Uruguay. Online.
Taller de Geometría Diferencial Singular y Rigidez, Morelia, México. June 12th, 13th, 14th, 2019.
Jornadas de Geometría, TopologÍa y dináamica. Morelia, México April 12th, 2019.
CIMPA School on Noncommutative Geometry and Index Theory Noncommutative Geometry 2018.
Programa de Cómputo Científico del CCM PROCOCI2017.
Thematic Session of the Latin American Mathematician's Congress: Geometry, Topology, Interactions between Geometric Group Theory and Algebraic Topology. CLAM 2016.
Meeting on Topological K-theory and Noncommutative Geometry K-Theory.
Encuentro Nacional de Jovenes investigadores en México. ENJIM 2015.
II Reunión Matemáticos Mexicanos en el Mundo MMM2014.
Sección de Topología Algebraica. Congreso Nacional de la Sociedad Matemática Mexicana. Durango, México. October 26th to 31st, 2014. Congreso SMM
Taller de Vinculación Matemáticos Mexicanos en el mundo. Together with Fernando Galaz and Monica Moreno. CIMAT, August 22-24th, 2012.TVMMJM
Docencia/ Teaching:
In 2022-2 I am teaching "Large Scale Geometry of Big Mapping class Groups ", advanced course of the UNAM-UMSNH graduate program.